TEA Approved Online DADAP Course
DTA's online DADAP course is a 6-hour Drug and Alcohol Driving Awareness Program approved by the Texas Education Agency (TEA).
This online course is fully equivalent to a traditional classroom-based drug and alcohol driving awareness program, but allows the student to complete the course entirely on the Internet instead of having to drive to a DADAP school.
View approval certificate for DADAPonline.com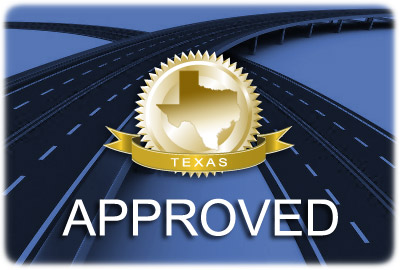 Our company offers the only online DADAP course approved by the Texas Education Agency.
Reasons for DADAP Course Attendance
The online DADAP course is approved by the State of Texas for the following purposes:
Court Ordered – Section 469.007 of the Texas Health & Safety Code authorizes Texas courts and justices of the peace to refer individuals to a DADAP course for various alcohol and drug-related offenses. Typical offenses would include MIP, DUI, DWI, PI, etc. If you have been ordered by a Texas drug court or judge to attend a 6-hour Drug and Alcohol Driving Awareness Program, you can sign up on this site to take our online DADAP course. Note: If you are not sure whether you are supposed to take the DADAP course, please check with the court that referred you.
Auto Insurance Discount – A driver can voluntarily complete the DADAP course to receive a discount off his or her Texas automobile insurance premium. This discount is in addition to any other applicable insurance discounts, such as the discount a driver receives for completing a Texas defensive driving course or Texas driver ed course. As an example, a driver who completes the 6-hour driving safety course for a discount may then be able to complete the DADAP course for an additional discount, resulting in significant savings on his or her auto insurance. Note: Discounts vary. Please check with your insurance company to find out how any applicable discounts can be applied to your premium.
Continuing Education – The DADAP online course is approved by the Texas Education Agency for all Driver Education Instructors in Texas to take for their annual continuing education requirement. DADAP online can be taken for this purpose once every three years. This option is only available to driver ed instructors who are NOT also licensed to teach the DADAP course.
Fleet Training / Business and Industry – Company drivers can take the DADAP course if they have been ordered to attend a traffic safety program. DTA's defensive driving programs are research proven effective at reducing traffic crashes and violations and are an excellent way to minimize fleet losses caused by these factors.
The TEA approved DADAP online course cannot be used to dismiss a Texas traffic citation. If this applies to you, you should sign up for Texas Defensive Driving instead.
Click the GO button to sign up now for your Texas online dadap course with DADAP Online.com.
1-800-558-9887